The new QM Process Library

---
The story behind ....
In many projects customers have asked us again and again:
"Why start from scratch when there are standards for best practices in quality management such as ISO 9001?"
We have long hesitated to offer "something ready" because we know how dangerous it is to do so without taking into account the specific requirements of the respective company. On the other hand, ISO 9001 is a standard, i.e. many things can be implemented independently of a company's specific character in order to achieve optimum results, even to the point of certification.
As a result, we have packed together our more than 20 years of project experience in TQM and a great deal of entrepreneurial knowledge and defined the cornerstones of a process-oriented standard solution:
Standardize everything that is prescribed by a standard (ISO 9001)

In addition, standardize processes that are based on best practices and successful experiences to the extent that they are widely universally applicable

Detailed only to the extent that the general usability is ensured and the processes are complete

Provide complementary tools such as checklists, templates and role descriptions to support implementation
Our satisfied customers have confirmed the correctness of this approach many times:
"We didn't have to reinvent the wheel, but could concentrate on our specific requirements - that saved us a lot of time and money"
---
.... the result is - the QM Process Library
The QM Process Library is a standardized Best Practice Process Model of the international standard ISO 9001 modelled in BPMN 2.0 supporting especially the implementation of Process Oriented Quality Management. The processes shown here are highly customizable to the necessities of an enterprise in simple manner and integrable into the enterprises process model. Two versions are available:
In the English version we support british and american English in Signavio alternatively, in ARIS we support American English.
---
Some of our successful examples:
---
ISO 9001 describes the "

what

" - the QM Process Library describes the "

how

"
With the QM Process Library we provide a tool developed by practitioners for practitioners that:
saves the awful evaluation of necessary processes in the beginning of an Quality Management project

provides a check for completeness for the planned QM process model

describes how the ISO 9001 processes and functions can be implemented

provides a huge amount of checklists and templates for Quality Management

shows the internal and external process interfaces of the Quality Management

provides process oriented support for the implementation of Quality Management systems

addresses all process requirements of the ISO 9001 standard
Features of the QM Process Library
50 linked process graphs from all ISO 9001 disciplines
17 interface diagrams for the ISO 9001 disciplines
5 process landscapes for the ISO 9001 process groups
role descriptions
checklists and templates to important topics of ISO 9001 linked to the respective process steps
RACI matrix for the responsibilities
Benefits of the QM Process Library
best practice from the very beginning

a process model tailored to the needs of the enterprise (avoiding the "reinvention of the wheel")

integrable into each enterprise process model

reduction of consulting spending

quick wins in a mission critical project

All content of the QM Process Library at one glance
What you should not expect (and we do not promise)
Your Business is determined by your market, your entrepreneurial excellence and your uniqueness, hence the tight integration of QM processes and your specific business processes is not to be completely standardized (despite what others tell you - otherwise you would loose your competitive advantage). Thus our QM Process Library
no compensation for the necessary ITSM implementation project (positive change in existing processes), but makes it much easier and saves money

is no plug and play-solution, but has to be integrated into the processes of your enterprise - this is very simple
We standardize by means of our QM Process Library all QM processes, which are to be standardized in a wise manner - this gives the offered degree of details.
Additional service free of charge
With immediate effect all new customers of our QM Process Library will have an everlasting access to our rapidly growing QM document archive. It contains:
all QM checklists

all templates

all key performance indicators

all other accompanying documents of the QM Process Library.
We provide ongoing new QM documents in this archive and want to ensure that all our customers always get all new QM documents even in case they have not been included in the QM Process Library at the moment of purchase.
Look and Feel (Signavio)
Please use the zoom slider to see the details
Overview of the ISO 9001 Improvement Processes
Please use the zoom slider to see the details
ISO 9001 Process Model - PDCA Cycle
Please use the zoom slider to see the details
ISO 9001 Process Model - Audit Planning (Detail Process)
Look and Feel (ARIS)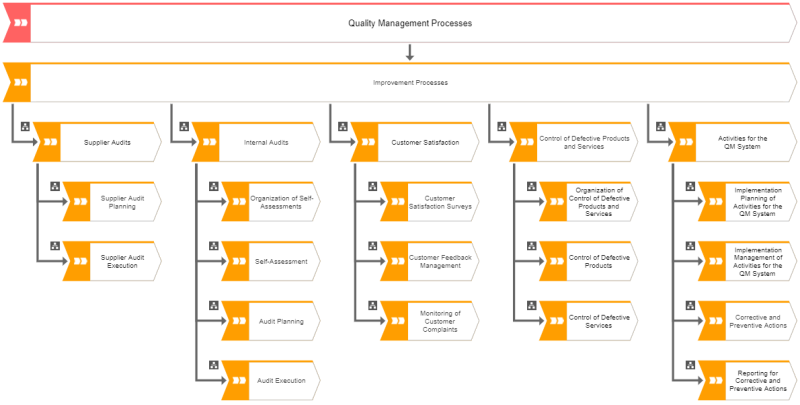 Overview of the ISO 9001 Improvement Processes
ISO 9001 Process Model - PDCA Cycle
ISO 9001 Process Model - Audit Planning (Detail Process)
Price information

(all prices excl. VAT, without Signavio respective ARIS licenses)
---
Register free of cost and test the QM Process Library without obligation
---